You are now in the main content area
FCAD Virtual Grad 2020
 Celebrate with FCAD
You made it! Although we are unable to celebrate with you in person, we've crafted this web page to help celebrate this major milestone. We're here to celebrate YOU. On this page, you'll find special messages from faculty, staff, alumni and other members from the FCAD community, as well as links to resources to help you stay connected.
Start your experience here »
 Get Your Selfie Game On!
Celebrate with us! We've created custom Snapchat and Instagram filters to help you celebrate your achievements. Share your selfies and video messages by tagging #RUGrad2020 and #FCADNextGen.
IG Filters
Take a selfie or video using the FCAD Grad 2020 filter. Share this on your story and tag @RyersonFCAD, @Ryerson_u, and your program.
Head over to RyersonFCAD on Instagram

Look for the Custom Filters icon (Smiley Face)

Click on the FCAD Grad 2020 filter

Click Try It on the bottom left corner
IG Stickers
Crafted especially for you, we've created the FCAD Grad 2020 stickers on Instagram. Just search for "FCAD" in the stickers section.
On Instagram, take a quick selfie or video (through your story)

In the top menu, click on the Stickers icon (Square Smiley Face)

Search for FCAD and select the sticker you want to use
Snapchat
Scan the Snapcode (take a picture) or search up "FCAD Grad 2020" to use this awesome filter! Share it on your story and send it to your friends.
We've curated specially-crafted messages from members of the FCAD community to celebrate #FCADNextGen— the FCAD Graduating Class of 2020. Explore this page to find words of wisdom and well wishes from familiar faces.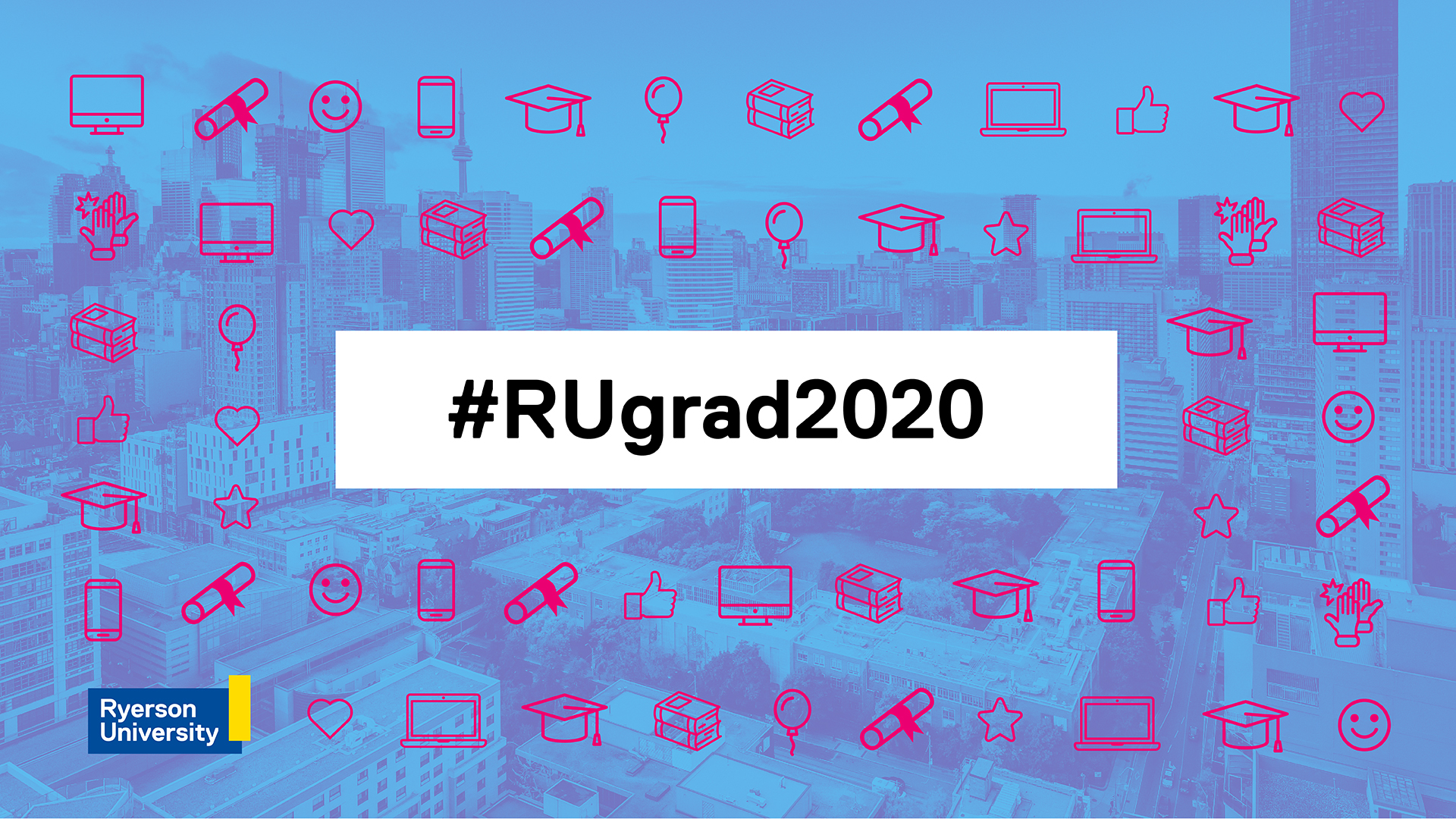 Celebrate #RUGrad2020 with Ryerson University
Though this year has unfolded differently, wherever you are, we celebrate together. On June 30, graduates and the rest of the Ryerson community are invited to join the virtual celebration. See you then!
 With an FCAD degree in-hand, you join thousands of FCAD alumni worldwide
You're joining a community of disruptors — those who are making a change in the industry and are innovating non-stop. You'll soon take the first step in building your own career, and we know you'll do great. Be ambitious, be bold, and be creative.
Check out FCAD's Leading Alumni who are trailblazing the creative and cultural scenes »

Resources for the New Alumni
Stay in touch
From exclusive event invitations to guest speaker opportunities, we like to keep in touch with our amazinig alumni to let them know what we're up to. Follow and tag @RyersonFCAD on Twitter, Instagram, or LinkedIn at any time -- We love hearing from our alumni!
For more ways to stay connected, check out these resources »
Stay Creative
From hands-on workshops to engaging industry-focused panel discussions, the FCAD community offers a wide range of events to keep you engaged, creative, and connected. Tune in every Monday for the Communites Create workshops, or join professors Laurel Walzak and Joe Recupero as they host lively talks on the future of Sports with athletes and industry pros.